Albums with highlights chosen from previous editions of the 'Music on the Heights' festival

Na płycie znajdują się utwory wykonywane podczas koncertów VII Międzynarodowego Festiwalu Muzyki Kameralnej "Muzyka na Szczytach", Zakopane 12 -19.09.2015
1.
 

 
Wolfgang Amadé Mozart: Symphony No. 40 in G minor KV 550
I – Allegro molto
Sinfonietta Cracovia, Michał Dworzyński – conductor   
 2.
 
Wolfgang Amadé Mozart: Clarinet Concerto in A major, KV 622
II – Adagio
Sinfonietta Cracovia, Shirley Brill – clarinet, Michał Dworzyński – conductor
 3.
 
Saverio Mercadante: Flute Concerto in E minor, Op. 57 no. 2
III – Rondo
Sinfonietta Cracovia, Łukasz Długosz – flute, Michał Dworzyński – conductor
4. 
 
Arnold Schönberg: Ode to Napoleon Buonaparte Op. 41 for piano,
string quartet and reciter (excerpt)
Maciej Piszek – piano, DAFO Quartet: Justyna Duda-Krane – I violin, Danuta Augustyn – II violin,
Katarzyna Budnik-Gałązka (guest performance) – viola, Anna Armatys-Borelli – cello, Adam Woronowicz – reciter,
Przemek Fiugajski – conductor
5. 
 

 
Anton Webern: Langsamer Satz
DAFO Quartet: Justyna Duda-Krane – I violin, Danuta Augustyn – II violin, Katarzyna Budnik-Gałązka – viola (guest),
Anna Armatys-Borelli – cello
6. 
 
Paweł Szymański: Sonata for viola and piano*
Krzysztof Chorzelski – viola, Maciej Grzybowski – piano
*to Cezary Kozanecki
7. 
 
André Czajkowski: Sonata for viola and piano (excerpt)
Krzysztof Chorzelski – viola, Maciej Grzybowski – piano

8. 
 

 
Mieczysław Karłowicz: To the Saddened One Op. 1 no. 1 (arranged for alto and string sextet by
Douglas Brown)
Jadwiga Rappé – alto, Mariusz Rutkowski – piano, Leszek Sokołowski – double bass, Polish Quartet of Deutsche Oper Berlin:
Tomasz Tomaszewski – I violin, Piotr Prysiażnik – II violin, Sebastian Sokół – viola, Dorota Imiełowska – cello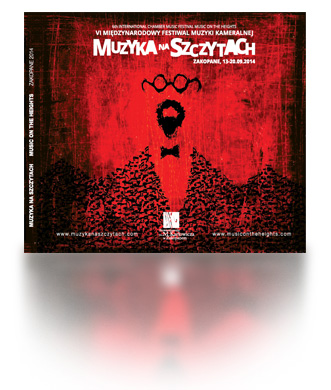 Na płycie znajdują się utwory wykonywane podczas koncertów VI Międzynarodowego Festiwalu Muzyki Kameralnej "Muzyka na Szczytach", Zakopane 13 -20.09.2014
John Tavener
1.
 
Thrinos
Jacqueline Thomas – cello    
Joseph Joachim
 2.

 
Romance for violin and piano Op.2 No.1
Grzegorz Kotów – violin, Lily Maisky – piano
Franz Schubert: String Quartet d-minor D.810 Death and the maiden (fragment)
 3.
 

 
I – Allegro
Apollon Musagète Quartett
Paweł Zalejski – I violin, Bartosz Zachłod – II violin, Piotr Szumieł – viola, Piotr Skweres – cello
Benjamin Britten – String Quartet No. 3 (fragment)
4. 
 
III – Solo
The Brodsky Quartet
Daniel Rowland – I violin, Ian Belton – II violin, Paul Cassidy – viola, Jacqueline Thomas – cello
John Tavener – The Protecting Veil (fragment)
5. 
 
VII – The Dormition
6. 
 
VIII – The Protecting Veil
Sinfoietta Cracovia, Marcin Zdunik – cello, Jean-Luc Tingaud – conductor
Andrzej Panufnik – Arbor Cosmica (fragment)
7. 
 
I – Andante moderato
8. 
 
II – Allegretto
9. 
 
III – Andante con moto
Sinfonietta Cracovia, Jean-Luc Tingaud – conductor

Johannes Brahms – Three songs transcribed for violin and piano
10. 
 
III – Lerchengesang Op.70 No. 2
Lily Maisky – piano, Grzegorz Kotów – violin
Paweł Mykietyn – 3 for 13 (fragment)
11. 
 

 
III
Sinfonietta Cracovia, Jean- Luc Tingaud – conductor
OBRAZKI ZE SZCZYTÓW
"The inspiration and an integral part of the whole cycle is "Promenade" from "Pictures of an Exhibition" by Modest Mussorgsky (…). Combining classical clarinet quartet with ethnic voice, jazz trumpet, and accordion, as well as the entertaining rhythmical section which follows the example of master Igor Stravinsky, I have confronted this journey through musical styles of different eras with contemporary rhythms such as bossa nova, swing, funk, ethno or blues " – Sebastian Perłowski.
Musicians: Sebastian Bernatowicz – piano, Sławomir Berny – percussion,
Jacek Hołubowski – accordion, Józef Michalik – bass gitar/double bass,
Przemysław Sokół – trumpet/flugelhorn, Joanna Słowińska – vocals,
Cracow Clarinet Quartet: Michał Poniżnik – clarinet,
Mariusz Stępień – clarinet/soprano saxophone, Marek Nemtusiak – clarinet,
Jakub Sztencel – clarinet/bass clarinet, Sebastian Perłowski – arrangements.
| | | |
| --- | --- | --- |
| 1. | | Modest Mussorgsky – Promenade from Pictures at an Exhibition |
| 2. | |  Gustav Mahler – Adagietto from Symphony No. 5 |
| 3.  |   |  Promenade |
| 4.  | | Heitor Villa – Lobos – Bachianas Brasileiras No.5 |
| 5.  |   | Promenade (attacca) |
| 6.  |   | Johann Sebastian Bach – Largo from Violin Concerto |
| 7.  |   | Promenade (attaca) |
| 8.  |   | Igor Stravinsky – The Firebird |
| 9.  |   | Enrique Granados – Spanish Dance No.2 |
| 10.  |   | Modest Mussorgsky – The Great Gate of Kiev from Pictures at an Exhibition |
Płyta jest dostępna w salonach EMPIK
KARŁOWICZ / KOŚCIELEC / KILAR
Mieczysław Karłowicz
Koncert skrzypcowy A-dur op. 8
1.

Allegro Moderato
2. 
 
Romanza. Andante
3. 
 
Finale. Vivace Assai
Odwieczne pieśni. Poemat symfoniczny op.10
4. 
 
Pieśń o wiekuistej tęsknocie. Andante lento.
5. 
 
Pieśń o miłości i o śmierci. Andante con moto.
6. 

 Pieśń o wszechbycie. Moderato
Wojciech Kilar
7.
 
Kościelec
Musicians: Wanda Wiłkomirska- violin
National Philharmonic Symphony Orchestra conducted by: Witold Rowicki, Stanisław Wisłocki, Janusz Urbańskigo
TOMASZ SIKORA
"Chopin – the mood of the composer in the photographic images of Tomek Sikora"
The photographs aesthetically refer to the works of the greatest impressionists such as Monet, Renoir, Sisley and Degas. The following is what Sikora says about his project inspired by the travels of Chopin:
"I travel around Poland, I try to capture what is fascinating about the country and what builds our identity. Before he left his beloved country forever in the middle of his life, Frédéric Chopin traveled a lot around Poland. Traveling by stagecoach was so slow that it allowed him to look at magnificent natural surroundings, people in peasant huts, hear the songs of women working in the field, or hanging out the washing. This inspired a sensitive composer, built a picture of the place where he was born and spent his childhood and all those carefree moments to which one returns with the greatest pleasure. These sweet and colourful memories increasingly occupy our imagination; they weave pictures, frequently only fragmentarily, blurred into something difficult to identify, though highly desirable".
The album is available for purchase at the headquarters of the Mieczyslaw Karłowicz Association in Zakopane.